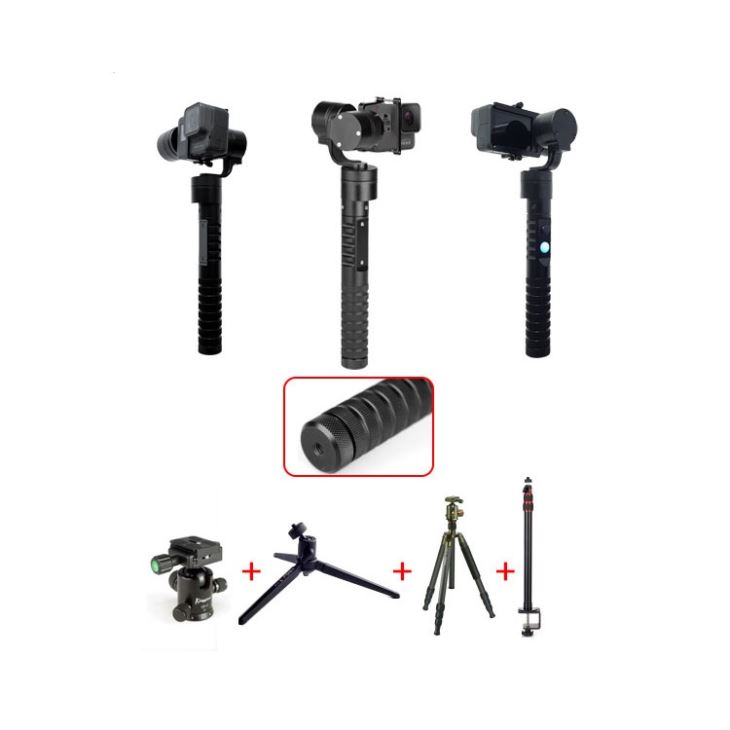 Add to Favorites
Share
Professional 3-Axis Brushless Hand-held Portable Stablizer for GoPro Hero 5 AFI A5
Payment

Origin

China Mainland

Minimum Order

1

Packing

Pieces
Product Detail
A5 is updated from VS-3SG

Upgraded AFI Gimbal A5

Compatible with GoPro5/ GoPro4/GoPro3+/GoPro3 cameras and other new series action cameras.

Full Range & Freely Controllable

3-Axis Brushless Hand-held Steady Gimbal A5 is designed for action camera , brings you smooth,pitching of all-round perspective shock . With creative handle bar and anti-shake high technology , makes you achieve the freely controllable.

Article

Min

Standard

Max

Remarks

Working Voltage

6.5V

7.4V

8.4V

Pitch Angle

160(down)

0(Horizontal)

160(up)

Vertical Hand-held

Roll Angle

-50

50

Vertical Hand-held

Heading Angle

160(left)

0(Horizontal)

160

Vertical Hand-held

Heading Angle

-50

0

50

Horizontal Hand-held

Pitch Following Rate

30°/sec

Following in the uniform speed

Heading Following Rate

120°/sec

Following in the uniform speed

Static Attitude
Tracking Accuracy

0.01°

Gimbal in static Mode

Mootion Attitude
Tracking Accuracy

0.02°

Motor overliad<2G

Overload Current
Protection

1A

Weight

265g

Battery& camera
excluded

Support camera

Gopro3,Gopro3+,Gopro4,Gopro5,HD

Support Mode

Semi-following:Heading following.Pitch&Roll keeping self-balance automatically.
All Following:Heading &Pitch following.Roll keeping self-balance automatically (Default mode)
All Locking:Heading,Pitch and Roll all locking.
(Pitch can be locked by hand-pull)
Inverting:Support

Stand-by time

2.5-3Hours

Especially Designed for Action Camera

3-Axis Brushless Hand-held Steady Gimbal A5

Streamlined Design/Quickly install/Simple Operation

Perfect 3-D space Combination of Magnetism, Electricity and Force

The gyroscope can get the accurate movement attitude parameter of the action camera. The magnetic encoder can take the detailed record about the relative angle change of the single axis. The intelligent algorithm can drive the real-time correction of the brushless motor.

Multiple Modes, Switch Freely

A variety of work patterns, free to switch, do not miss every wonderful moment.

Locking Mode--heading&pitch& roll all locked.

Heading and Pitch Follow Mode--roll locked, heading&pitch smooth rotation

follows the direction of the gimbal.

Heading Follow Mode--pitch&roll locked, heading smooth rotation follows

the direction of the gimbal.

With the special inverting mode , make the camera reverse by inverting the camera, which combines the two switching modes of the gimbal to easily capture the low-angle lens to close to the ground.

With convenient pitch locking function design, pull the camera tilt position by hand to lock the current angle.

One button to standby, one second start, energy saving and convenient.

Function Button

The LED is used to identify the current working mode.

On/Off Button

For high-quality video escort

Sentimental moments to share wonderful.

Mental body

widely compatibility

More functions

Multiple modes

Product Highlights

Integrated - Universal Magnet Motor

Adopt high-strength permanent magnet alloy steel, equipped with the latest upgrade control program integrated ring motor, making the product stability and smooth exception exceptionally excellent, allowing you anytime or anywhere to enjoy free control shooting experience.

With perfect industrial design, high-strength aluminum alloy CNC precision processing of high-quality sandblasting non-slip process, solid and simple product structure, exquisite appearance.

Power Supply Lasting Storage and Higher Utilization, More Powerful Performance

High cycle batteries, reduce costs, affordable, energy saving and environmental protection.

Multi-function Buckle - Suitable for A Variety of Cameras, Widely Compatibility

The latest multi-function buckle design, suitable for GoPro, SJCAM, XIAOYI and other sports cameras, widely compatibility.

GoPro Hero Series

XIAOYI Sports camera

SJCAM Series

Other similar size action cameras

Bottom with 1/4'' threaded hole, more choices, widely compatibility

The handle bottom with 1/4'' threaded hole can be connected with other

photographic equipment, which can make video shooting much fun.



China
Favorites